HISTORIC GENERAL OFFICER'S COLT 1911 PISTOL~GEORGE S. PATTON JR's FORMER CO & PERSONAL FRIEND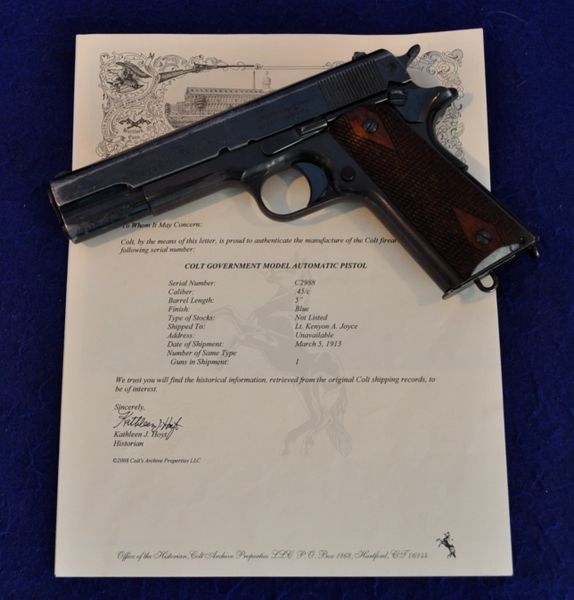 HISTORIC GENERAL OFFICER'S COLT 1911 PISTOL~GEORGE S. PATTON JR's FORMER CO & PERSONAL FRIEND
Original and very historic circa 1913 Colt 1911 .45 caliber automatic pistol. This pistol belonged to Major General Kenyon Ashe Joyce (b.1879-d.1960). Major General Joyce's illustrious military career spanned 46 years. He enlisted in the Army as a Private during the Spanish American War and rose to the rank of Major General later retiring in 1944. In 1906 he surrounded and captured one of the last bands of hostile Ute Indians on the Little Powder River in Montana. During WWI he was badly wounded in France by a grenade and lost the use of his left hand. During the period of 1933-1937 then Col. Joyce was the post commander at Fort Meyer, Virginia and George S. Patton Jr. then a Major was his executive officer. While at Fort Meyers he and Patton designed and supervised the building of the new Post Chapel which was dedicated in 1935. He and Patton remained close personal friends for the rest of their lives. General Joyce's last active assignment was a Deputy President of the Allied Control Commission for Italy in November 1943. In that post he became an aide to General Eisenhower, the Commander in Chief, and was directly responsible to him.
Very interestingly when George Patton Jr. was in trouble for the slapping incidents. His old reliable friend Major General Joyce testified on his defense.
~An insert below from "Patton and His Pistols"
In late 1943 Major General Kenyon A. Joyce visited Patton at his headquarters in Sicily. He saw that Patton was wearing a revolver and suggested he should have an automatic pistol. Joyce tried to get his brother-in-law to obtain a Remington 51 and send it to him to give to Patton, but apparently the brother-in-law was unable to locate one. So when Joyce returned to the U.S. he contacted Roy C. Swan of Remington to see if he could obtain one. Swan located a used one in Denver and had it refurbished at the Remington Factory. The gun was engraved "To George Patton / From his shooting partner of many years / Kenyon Joyce."
Patton had the standard grips replaced with wooden ones with three ivory stars inset. There are a number of photographs of him wearing the Remington: the three stars stand out clearly in old black and white photographs. When he was promoted in 1945 Patton had new four-star grips made. This is the gun he wore for the rest of the war, as well as after he returned to the States. --from Patton and His Pistols.
When Major General Joyce passed away on Jan. 18, 1960 President and Mrs. Eisenhower drove to nearby Fort Meyers, Virginia to attend his funeral service. The President was Chief Of Staff to General Joyce when both were stationed at Fort Lewis, Washington, before WWII.
The provenance of this pistol is impeccable. According to the Colt factory letter pistol serial number C2988 was shipped in a one gun shipment on March 3, 1913 directly to then Lt. Kenyon A. Joyce. The pistol itself is in very good condition, still remains attractive in spite of its known use in France during WWI. The pistol still retains its early 1st type key hole lanyard loop two-tone magazine. The barrel that has been with pistol since its original use is a between the wars era Springfield Armory replacement barrel. The correct barrel would be easy to find but because of the historical significance of the pistol I personally wouldn't change it.
Overall a very historic Colt 1911 pistol indeed.